Perhaps the poor will always be among us.
Regardless, one thing seems certain, the poor have not gone away in recent times.
And, their situations only seem exacerbated by the current economy.
Five ministers took the notion of helping the hungry and ran with it — putting out a call to area churches and pastors to find a way to help those in need.
That was 40 years ago.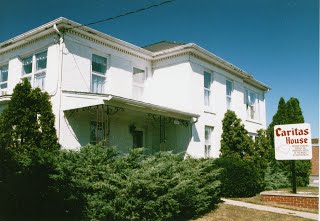 As a result, Caritas Inc., a 501(c)3 organization — providing grocery items, clothing, personal hygiene and house cleaning products, diapers, formula and more — has expanded many times over the years.
The Rev. Ian Stirrat, retired from Sun Valley Presbyterian Church, was one of those founding members 40 years ago.
Stirrat and four other ministers were taking a class together in 1974 in the field of clinical pastoral education and they began talking about the needs in the community, he recalled.
"We saw hunger issues not being addressed; people were sleeping in their cars," he said.
The preachers talked to their respective church boards and called for a community-wide meeting of church laity.
"We met at Rocco's, there were 20 to 25 of us and more than half were lay people," he recalled. "We decided to form an organization."
Stirrat came up with the name, Caritas, named after a similar organization in a church he had served at previously.
The Greek word means "caring."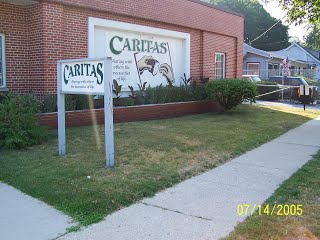 The Community Action Program helped provide volunteers for the operation.
Barrels that the city donated were then placed in various churches in the community for food donation collections.
Clothing also was donated and an office was established.
The problem was, all three were located in separate locations around the city.
A small closet was created at Sun Valley Presbyterian as a food pantry where the food collections were deposited. Clothing was stored at First Presbyterian and the office was located at what became River of Life United Methodist Church.
That meant anyone in need would first go to the office at one church, to another for clothing needs and out to the far west side of Beloit for food items.
Sometimes, Stirrat and/or volunteers would deliver needed items to those who couldn't get to the pantry.
"It wasn't the greatest setup, but it was what we had. We were told it would never last."
So when he thinks about Caritas' longevity 40 years later, he says: "I'm thrilled."
After six months in operation, a coordinator was hired.
By 1977, three years after its creation, 16 churches had become a part of Caritas.
"It was and is the most ecumenical organization in Beloit," Stirrat said.
In 1988, Caritas found a home where the office, pantry and clothing components were combined in a dwelling at 734 Fourth Street which has since been razed. It next moved to 1175 Madison Road in 1997. About four years ago, Caritas moved to its present location at 2840 Prairie Ave. in Beloit.
And over the years, as the word spread about the need in the community, a more diverse group of supporters also came forward. Today, not only churches, but businesses, service groups and others offer donations of items and money. There are three part-time employees and a full-time executive director. There also are 100 volunteers who help keep operations going.
Stirrat remained president of the Caritas Board of Directors for the first five or six years of its existence and has taken on the lead role other times over the past four decades. He remains on the Personnel Committee and was among those approving the hiring of the current executive director, Donna Ambrose.
She was a good pick for the organization "Because she cares a lot and she has knowledge about the community," Stirrat said.
She also has business connections and previously worked at Ecolab.
"We call them our neighbors, not clients," Ambrose said of the people who come to the site seeking help.
According to statistics compiled for 2013, there were 14,513 people served by the food pantry and 8,103 helped out with clothing at the site. Of those, 609 were new neighbors never served before at Caritas, Ambrose said.
Ambrose gets to know each neighbor because she interviews each when they first come to the location.
And as such, she realized that the former hours open to the public were not enough. She also realized some of the elderly were having difficulty getting to the site.
And so recently, Caritas expanded its hours. It is now open Monday, Tuesday, Thursday and Friday from 9 a.m. – 2:30 p.m.; Wednesday from 9 – 11:30 a.m. and from 6 – 8 p.m. and the third Saturday of each month from 11 a.m. – 1 p.m.
For a group of seniors living on the west side of the city, orders are taken once a month, filled and delivered by volunteers to the apartment complex.
Who are the neighbors who reap the benefits from Caritas?
They are anyone in need. That could be the senior citizen on a low, fixed budget trying to stretch every dollar, the unemployed or the underemployed, Ambrose says.
One more significant thing has changed over the years.
In the past, recipients could come and get groceries one time per month, that has now been expanded to twice a month to meet the needs, Ambrose said.
As the organization heads into its 40th year, with the actual anniversary being in April, an open house celebration is being planned for this summer. But for now, the operation will continue as usual with the volunteers being honored in small ways each month, Ambrose said.
After all, "There's no way we could do it without the volunteers," she said.