Caritas clients will be reaping a bountiful harvest this summer. Their shared community garden is offering them a sense of self-sufficiency, a dose of exercise and the opportunity to bond.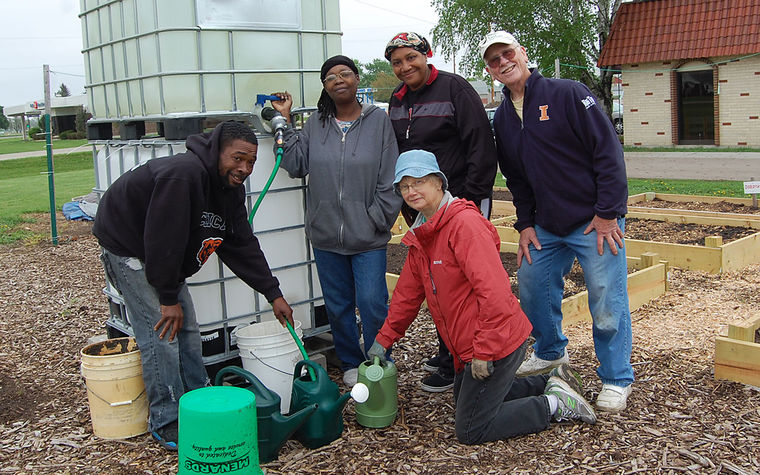 Those gifts have come to clients thanks to the efforts of volunteer Ray Herzer. Since he helped launch the garden in 2011, it's doubled in size and features new grow boxes this year.
"Ray Herzer is a very dedicated, patient and compassionate teacher. Our gardeners are not just using a row or grow box for the season, they're learning valuable skills. Thanks to Ray's commitment to this project, we're celebrating our fourth season," said Caritas Executive Director Donna Ambrose.
Caritas is a food pantry and clothing center. Many of the clients using the gardens are working, but may not have enough hours or aren't earning enough money with their current employment. Caritas provides the garden space to interested clients as well as tools and seedlings. Herzer also brings his expertise and his unique recipes such as broiled eggplant or zucchini pancakes out to the garden.
Gardener Dorothy Clifton is returning for her third year with help from her son Patrick Clifton, and occasionally her 4-year-old grandson. Dorothy is growing onion, turnip greens, green beans, Swiss chard, lettuce, spinach, eggplant, tomatoes, hot and sweet peppers, okra and cucumber. Because of her longevity at the garden, she has a growing space reserved for her.
Her son Patrick said his favorite treat from the garden is the fried green tomatoes and greens his mom makes for him. His favorite part of the garden is its ability to provide stress relief.
His mom Dorothy said they usually garden together and then either go out to eat. If the produce is ready, they cook it up for lunch together.
"We both work and it gives us bonding time," Dorothy said. "It's a chance to spend the day together."
Dorothy said all the gardeners get to know each other as well, cooperating as well as sharing produce and seeds.
Mary Ann Ewing, another avid Caritas gardener, is using space in the garden for the first time this year. No stranger to hard work, Ewing said her grandmother had her picking all kinds of vegetables as a kid. When she became a mom, she raised her six kids with the help of an ample garden.
When asked what it feels like to see her produce growing, she said, "it's a blessing."
Herzer, a retired math teacher, decided to bring the blessings to Caritas in 2011 when he was a volunteer stocking shelves. He pitched the idea to former executive director Judy Petree, who encouraged him to launch the 35×35 foot garden with some help from volunteers from Sun Valley Presbyterian Church.
In the spring of 2011, Herzer implemented his design which included laying cardboard down to kill the grass and covering it with rows of soil for planting, with wood chips in rows in-between. The first year clients each took ownership of a 30-foot row.
Fast forward three years later, and the garden is up to 2,500 square feet. Its grow boxes, with wooden sides, allow for more produce than traditional rows and make weeding a little easier. Every Saturday and Wednesday, Herzer or another volunteer are at Caritas. Clients can use tools on site and are provided with a list of plants they can select from. Although the garden keeps growing, as of early May all the plots had already been accounted for.
Herzer also donated some of the 150 plants he starts in his basement including tomato, pepper and eggplants. The plants are later transplanted to the garden while the beans and beets get directly planted in the ground.
During the height of the season, Herzer probably averages 14 hours a week in the garden.
He joked he tried collecting stamps and comic books, but found he preferred a hobby with a stronger purpose.
"I like helping people and getting things done," he said.
Herzer also enjoys the very enthusiastic gardeners, who often have a lot to learn as they've never had a garden to tend before.
Herzer said he's not a master gardener, and he doesn't really have any secrets on keeping the garden producing.
"It's all dependent on preparation and weather," he said. "Everything you need to know is online, and then some. It's just a matter of taking the time to do it. You learn, you make mistakes and profit by your mistakes."
When asked his gardening tips, Herzer said people shouldn't rush to plant. With May 10 being the average last frost date, it's never a good idea to hurry. He encourages weeding and watering and is pleasantly surprised when he stops into the Caritas garden and sees the water tank is getting low and the rows were weeded while he was away.
He also tells new gardeners the importance of not crowding, although it can be hard for new gardeners to thin plants.
"When you see two wee spinach leaves and have to pull some, it's hard to do," he said.
Photo Credit: Staff photo by Hillary Gavan
From left; Patrick Clifton, Dorothy Clifton, Mary Ann Ewing, Ray Herzer and (front) Mary Bausum stand by the water tanks at the Caritas garden. All the gardeners say they enjoy growing sharing their seeds and produce with each other in what is a great group effort.